Want to find out more about how each track came to be? Check out our Behind the Music pages. Each song labeled with BtM, below, has a story attached to it. There are also full guitar chord charts for each song: Open up one of the Lyrics pages, below, then click on "Guitar Chords".
If you are a distributor and you're interested in getting a batch of our CDs for reselling, or if you have a venue that you think would be a good place for us to perform our music, please contact us.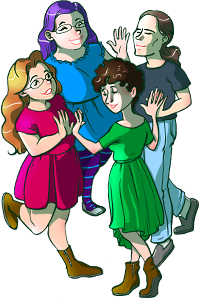 Vixy & Tony: We Are Who We Are (2016)




Our second studio album features our wonderful string section, Betsy Tinney and Sunnie Larsen. The album is powerful, energetic, and emotional. It contains a rock 'n roll remake of Vixy's "The Girl That's Never Been", lush covers of two classic Pegasus-award-winning filk songs, "Dawson's Christian" and "Uplift", and our evocative geek anthem title track.

Vixy & Tony: No Hurry (2012)




Bandcamp NYP

(Name Your Price)

This toe-tapping post-apocalyptic sing-along originally appeared on Shadowbeast by Escape Key. We wanted to correct one of the lyrics, and couldn't resist giving this the full production treatment. This version features a string section by Betsy Tinney and Sunnie Larsen.

Vixy & Tony: Thirteen (2008)




Nearly three years in the making, this album features lush production and many talented guest musicians. A wide variety of musical styles, ranging from quiet folk pieces, to Bo-Diddley-inspired rockabilly, to 70's power rock, give Vixy & Tony a chance to really show off their chops.

Various Artists: Done the Impossible (2006)




Collecting music from a wide range of great artists, this soundtrack for the DVD documentary contains two early versions of "Mal's Song", which would later appear in its full form on the album "Thirteen". These two tracks are the only ones on which Vixy & Tony appear, but the album is full of other great music, too, including our friends the Bedlam Bards.


Mal's Song (Live)
(performed by Escape Key)
Lyrics
Mal's Song (Instrumental)
(performed by Tony Fabris)
Escape Key: Shadowbeast (2001)




Vixy's first album features a Pegasus award-winning song and a toe-tapping post-apocalyptic sing-along. Clean, precise arrangements of guitar and flute, by her husband Matthew and friend Audrey, provide a perfect background for Vixy's smooth voice.

The physical CD is out of print, but the digital version is available on Bandcamp. The song "No Hurry" has been removed from this album and re-released as a Bandcamp single, in order to correct one of the lyrics.